International Sailing Summit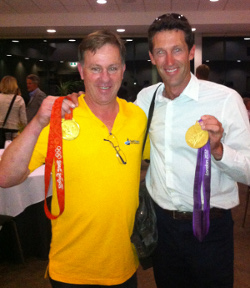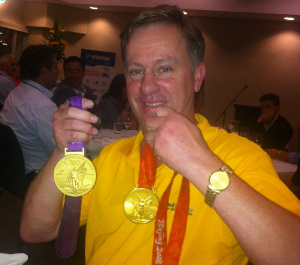 Wow!! I represented TackTracker yesterday at the 11th International Sailing Summit held at Sandringham Yacht Club in Melbourne Australia. Unfortunately I could not make it at 9.00 so after collecting some Live Trackers from Michael Blackburn who had been assisting TackTracker polish up the final version of our new Live Tracking system with his Lasers pre-Sail Melbourne, I walked into the beginning of Peter Conde's presentation.
I have never before been in a room with so many proactive, passionate people involved in sailing in my life and it was an enormous buzz. The only downer was knowing I had missed Malcolm Page, Mark Bergin, Kate Allen, Bruce Griffiths, John Bertrand, Jonathon Banks (Sail America) and Darren Vaux (BIAA). The "interactivity" of the entire day certainly allowed me to hear more of their thoughts during discussions however and Malcolm Page spoke again during the evening.
Unbeknownst to me this sailing summit was set up by Alistair Murray, a man not only oozing passion for the sport of sailing (or should I say pastime of sailing?) but also endowed with great business skills to not only siphon a multitude of creative, valuable ideas from those in the room but also not let those ideas stay in the room to fade away. Alistair not only gained ideas, he then put them into a list of actions to be explored using more butcher's paper than Phil, our local butcher, in December!!
I was blown away and it does not stop there as Alistair Murray was accompanied by the organisers of this particular summit Mark Bergin and Ross Kilborn who were equally impressive with their presentations and chairing throughout the day.
We were all there with a common objective and as was mentioned more than once we really do need to leverage the medal success while we can. I feel like repeating this because the "while we can" is critical to leverage the AST's Olympics performance while it is as fresh in the public's mind as possible.
I also found it most interesting while talking to others at the bar, including Lucinda Whitty and Malcolm Page (two superb ambassadors for the sport) and during dinner how many more creative ideas were being put forward. I was sitting next to a nice chap, Collingwood supporter of course, by the name of Alister Copley, General Manager, Middle Harbour Yacht Club who had already implemented some simple but clever ideas to significantly increase attendance at their Tackers program. Copying some "Tacker" recruitment ideas from other sports and empathising with what Tackers most cherish from any initiation program, etc.
In the afternoon we were (well I was anyway) all buzzed out by Tim Reid's marketing presentation. I hope many clubs in particular heed his advice remembering although it may be all new "it is not very hard once you start". I think some good advice was to ask a youngster/teenager club member to run the changing content/social media aspect of your club's site. You may be surprised at their enthusiasm.
It was raised during the night by some that youngsters found sailing boring. Well most sports are boring until you experience them. If visuals such as Chris Nicholson's experience with the whale (sorry I have not seen this) or "impersonating a teabag" as Alistair put it can be used well I think this may remove any thoughts of boredom!! Go Chris!! There are some awesome sailing videos around and let's not all forget standing on a dais is not a bad image!!!
So many ideas were put forward that a number of people felt understandably compelled to summarise. I too have that feeling and will do it with three terms mentioned: collaboration, planning and follow-through. I can not see a sport with so much high calibre talent associated with it doing anything but progressing.
Finally, the dinner and company at Sandringham Yacht Club was superb and I wish them all the best for Sail Melbourne.
Greg Seers December 4, 2012