Live Tracking With iPhones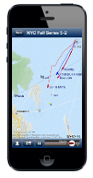 Did you know that iPhones are a low cost way to get into live tracking?
All you need do is publish your next race in advance and ask competitors with an iPhone to download the TackTracker App and use the Live Recorder to track their race.
Each iPhone user gets 14 days bonus Tracking Rights - so there's a great reason to give it a try. Visit our iPhone and iPad page for more information.