Track your racing and get a season's insights in a day
GPS tracking can show you what actually happened on the water - to you and your competitors. TackTracker makes GPS tracking and race analysis available to every racing sailor, yacht club, class association and coach.
Watch Races live on the TackTracker Cloud
The TackTracker Cloud is a huge library of races published by TackTracker users around the world. Visit the cloud and watch them in our web player, or download the TackTracker player and race analyser for Windows or macOS.
Many races are recorded live and you can watch them as they happen from anywhere in the world.
Sign up to TackTracker and record your own races! Create a free account on the TackTracker Cloud and get your own home page.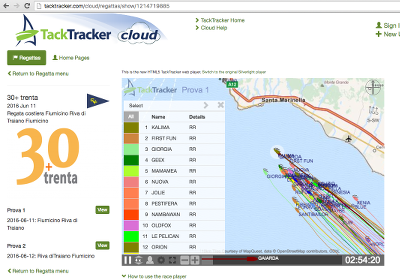 Live Tracking with your Phone
Get out your smart-phone and be tracking in minutes!
Create your account on the TackTracker Cloud
Switch on the Live Recorder, Sign in and start recording! (Detailed guide here.)
New users get two weeks tracking free.
Visit the Store for pricing options. We also have dedicated tracking devices if you don't want to use a phone.
Sponsors! Invite a Big new Audience to your next Regatta
TackTracker adds huge value to any regatta. Most sailors finish a regatta with nothing to take away, but if the regatta is tracked, every sailor has invaluable data that can materially help them improve.
Live tracking is a boon for family and friends too - because they can participate in the excitement wherever they are.
Sponsor logos can be displayed alongside the tracking so that not only does the regatta and sailing benefit, but the sponsor does too.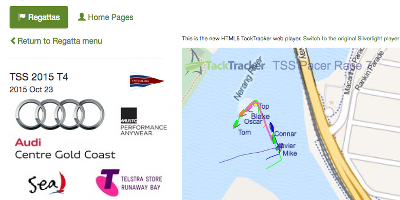 "The S80 Association of Victoria have been using TackTracker for the past 5 years with great success. Our members really enjoy replaying the races to see where they went right (or wrong..!). The detailed reports are easy to use and provide a wealth of information to learn from."
David Judge, President, S80 Association of Victoria
"TackTracker greatly accelerates Dragon sailors' learning about tactics over a coffee the next morning and enhances a Dragon spectator's experience."
Ray Chatfield, Vice President, WA International Dragon Association