The comprehensive GPS tracking system for sailing and water sports.
We have great tracking solutions for everyone from individual competitors and coaches through to clubs, associations and event organizers. TackTracker is an Australian company with the only system that seamlessly integrates both logged and live tracking and runs on any platform including PC, Mac, web player, iPhone and Android.
Record your yacht racing using a GPS tracker, and replay with TackTracker. It's fun, and you'll learn things you may never see on the water.
As a racing yachts person, you know that moving up the fleet takes knowledge and experience. But this can take a long time, simply because the information you need is not available. For example:
Do you know how high or fast you or your competitors are sailing?
How much less distance the winner travelled upwind?
How fast your competitors come off each tack?
What are the major factors that got them in front the last race?
What is your most effective sailing angle downwind?
Do you know really what won or lost the last race?
Use TackTracker to find out.
With TackTracker you can replay your race at home or at the yacht club, and find out what really happened. TackTracker is the tool every sailor needs to improve their performance on the water!
Track your racing with a simple GPS logger and review your performances afterwards. Or carry a live tracker so your coach or family can watch the action in real time on their browser or iPad. Either way, you can share your tracks with your competitors using the TackTracker Cloud and publish your racing to your own home page.
TackTracker is much more than a race player. It is a race analyser - giving leg by leg and tack by tack information on how far each competitor has sailed, how fast they were going, and how high they pointed on both port and starboard tack. TackTracker can even deduce the ambient wind direction, and indicate which tack a boat is on at any time, and whether it was close hauled, reaching or running!
It's fun to play your track around the course, and there are plenty of things to learn. The real value is attained when a number of sailors get together and share their tracks with each other. Then you can ascertain who travelled the shortest distance on the windward leg, who was sailing fastest, and who highest. At moments in the race where you may have fallen back, you can see what you were doing in relation to the other boats you were competing with.
Here are some things you can do now to try out TackTracker:
We hope you have fun using TackTracker and that it helps you improve your sailing.
New Recorder app for Android
We're really pleased to let you know the free TackTracker Recorder app is now available for Android!

This app turns your phone into a live tracker - letting your boat appear in a live race showing in the TackTracker cloud.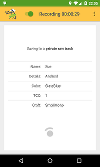 (If you have an iPhone, you can use the TackTracker App for iOS.)
---
Big improvements for the Live Recorder
Feb 20, 2016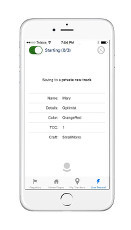 The Live Record feature in the free TackTracker App for iOS and Android has two great new features, delegation and adhoc races.
Delgation
We originally designed live record for users who wish to manage all aspects of iPhone tracking themselves. But there are many occasions when the tracking will be run centrally by one person or group. In this case, they can now ask users to delegate the race scheduling to them when they start their Recorder. This simplifies the process for both users and the tracking administrators.
Ad-hoc Races
This exciting new feature lets an iPhone user create and publish an ad-hoc race for their live track with just a couple of clicks. By publishing a race, the track can be made visible to others on the TackTracker Cloud - and also others tracking in the vicinity can join in. An ad-hoc race is created for you with minimal configuration, so there are no course or marks defined, but these can be added later if required using the Race Editor on your PC or Mac.
---