TackTracker Australian Business Number (ABN): 94 001 636 312
Sales
TackTracker Contacts
Please send any queries to sales@tacktracker.com or click here to request information or a quotation.
To contact Greg Seers directly:
Email: greg@tacktracker.com
Telephone Australia: 0402 302403
Telephone International: +61 402 302403
European Distributor
SailRacer
info@sailracer.co.uk
www.sailracer.org
SailRacer is the UK's leading supplier of specialised web services for sailing, including: online entry, event websites, results and analysis. We are pleased to be able to offer TackTracker GPS tracking services as part of the SailRacer solution, with packages for the sailor, event, club and class. For big events we can offer the complete solution, including on-site staff and help with sponsorship.
Your Region
Interested in selling TackTracker in your part of the world? Distribution rights are available for negotiation. Please contact Greg Seers (details above).
Support
For support questions, please first check the Support Page, then email any outstanding questions to support@tacktracker.com
The TackTracker team, from left: Greg, Kirsten and Geoff at the trailer at the Audi Etchells Worlds 2009 regatta.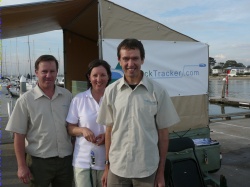 Company Profile
TackTracker was conceived and developed by Geoff Smith,a keen dinghy sailor with Blairgowrie Yacht Squadron in Victoria, Australia. Geoff sails the Sabre single handed dinghy and aTasar with his daughter. Geoff is also a talented software developer with two software patents to his name.
Our aim for TackTracker is to make our technology accessible to everyone, for weekend sailing, training and regattas, both large and small. This means:
anyone can use the tool without training
the end-end process of recording, loading and viewing tracks is automated and simple.
it's easy to share tracks with each other and access tracks published online
we provide the best analysis tools available
the solution is available at a price that all sailors can afford
TackTracker's debut was the 2009 Audi Etchells world championship, where all 85 yachts were tracked over a full week of racing. TackTracker received many accolades from competitors at that event, and was used by many, including the world champions, as a key source of strategic information.
Since then many individuals and clubs have seen the benefits TackTracker can offer for training, promotion and plain fun. In 2010, TackTracker was chosen by the Australian Sailing Team for use by high performance coaches in each state to train sailors at the Olympic level.
In 2011, TackTracker added an app for the iPhone and iPad then followed up with a native player for Mac OS. TackTracker players are available on PC, Mac, Web Player and iPhone - a remarkable achievement.
2012 was another big year for TackTracker development, with the launch of the TackTracker Cloud for sharing tracks, and live tracking. TackTracker now offers an integrated logged and live tracking solution, accessible for everyone from individuals and coaches to clubs and large regatta organisers. We also upgraded our iPhone App to make it a fully featured live tracker.
More recently we added a native HTML5 web player and an Android recorder app so that viewers can watch races from any device without the need to install plugins. We've also created a mobile friendly web based live race management console.
Although originating in Australia, TackTracker has now built a strong following in Asia, Britain, Continental Europe and the USA and the future looks bright.