TackTracker Australian Business Number (ABN): 94 001 636 312
Sales
TackTracker Contacts
Please send any queries to sales@tacktracker.com or click here to request information or a quotation.
To contact Greg Seers directly:
Email: greg@tacktracker.com
Telephone Australia: 0402 302403
Telephone International: +61 402 302403
European Distributor
SailRacer
info@sailracer.co.uk
www.sailracer.org
SailRacer is the UK's leading supplier of specialised web services for sailing, including: online entry, event websites, results and analysis. We are pleased to be able to offer TackTracker GPS tracking services as part of the SailRacer solution, with packages for the sailor, event, club and class. For big events we can offer the complete solution, including on-site staff and help with sponsorship.
Your Region
Interested in selling TackTracker in your part of the world? Distribution rights are available for negotiation. Please contact Greg Seers (details above).
Support
For support questions, please first check the Support Page, then email any outstanding questions to support@tacktracker.com
The TackTracker team, from left: Greg, Kirsten and Geoff at the trailer at the Audi Etchells Worlds 2009 regatta.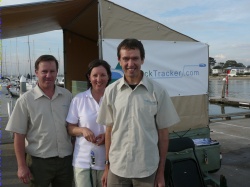 Company Profile
TackTracker was founded and developed by Geoff Smith, a keen dinghy sailor. Geoff is also a talented software developer with two software patents to his name.
Our aim for TackTracker is to make our technology accessible to everyone, for weekend sailing, training and regattas, both large and small. This means:
Anyone can use the tool without training
The tracking process is automated and simple
We provide the best analysis tools available
The solution is available at a price that clubs and sailors can afford
TackTracker has been developing and evolving it's tracking solutions since 2009. From its beginnings as a desktop application for logged tracking, TackTracker has moved with the times and is now a fully cloud based solution for real time live tracking. Tracking can be managed and viewed from our cloud console with no software to install. We also have mobile apps developed for iPhone and Android devices.
With thousands of races tracked each year, the TackTracker Cloud (tacktracker.com/cloud) is the place to go for sailors, competitors and spectators to watch their racing live and debrief afterwards. With TackTracker, Tracking is now affordable and accessible to everyone.