Download TackTracker Player
The TackTracker Player is available as a free download for your PC or Mac. The free player may be all you need, with the ability to:
Play and analyse races published on the TackTracker Cloud
Create, edit and publish your own races to the TackTracker Cloud
Load and view your own track files
Licenses are also available to unlock advanced featues for Logged Tracking, Race Reports, Club and Regatta Tools and Power Boat Navigation Rallies.
TackTracker for Windows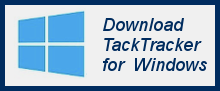 Version 7.06.13
Released 2019-07-13
System Requirements:
Microsoft Windows 10, 8.1, 8, or 7
Installation:
Close any running instances of TackTracker
Run the downloaded TackTrackerInstall.msi installation file.
Answer Yes or OK to all prompts.
Windows USB Driver
If you wish to connect a QStarz BT-Q1000XT or CR-Q1100P GPS, you will also need to download and install the USB driver.
The driver is provided in a .zip archive which you will need to unpack into a temporary folder. Then run InstallDriver.exe
The driver may also be obtained by installing the software supplied on the mini-CD with your GPS, or from the QStarz download page.
TackTracker for Mac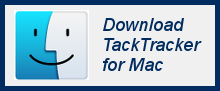 Version 7.06.9
Released 2019-07-01
System Requirements:
macOS 10.8 or later on an Intel based Mac computer.
Installation:
Download the TackTrackerInstall.dmg and double click to mount.
Drag TackTracker to the Applications folder link, or to your preferred install location.
Mac USB Driver
If you wish to connect a QStarz BT-Q1000XT or CR-Q1100P GPS via USB cable, you will also need to install a USB driver.
See the release notes for more information.