Live Tracking
Live Tracking offers the excitement of watching a race in real time from anywhere in the world.
A live tracker calculates its location from GPS satellites and sends a location update to the TackTracker Cloud server every few seconds using the mobile phone network. The TackTracker Cloud server updates the data in it's real time track database and also any live races for which the tracker is currently scheduled.
Any TackTracker player, including the Web player, the PC and Mac players and the iPhone/iPad player can play live races from the TackTracker Cloud.
Tracking made Simple
We have worked hard to make the live tracking fun and straightforward to do. Many years of refinement have made it possible to set up live tracking with just a few clicks.
Real time live tracking
Many people look to live tracking to provide a compelling, real time record of the sailing action as it happens. For this, you will need to set up a live race in advance, specify the course, and update the race as needed to reflect changes in start time or course. Course marks are located by a live tracker on each mark, so marks on the screen are always correctly located.
Adhoc live tracking
You may wish to simply turn the trackers on, take them sailing and create a race replay afterwards. This approach will appeal if you are sailing in a race (or otherwise busy) as well as running the tracking. Your tracks are stored on the TackTracker cloud automatically and a race can be easily created after the event to display the tracks.
Safety First
Live tracking is appealing to race organisers for the added dimension of competitor safety that it provides. Seeing all competitors on a map is a great assistance to rescue services if something goes wrong.
In addition, TackTracker has a unique Competitor Tally feature, which is a real time online report listing which competitors are currently on the water and which are safely on shore. The competitor tally can be used as an adjunct to sign-on/sign-off procedures and to ensure that no competitors are overlooked.
Use your Phone!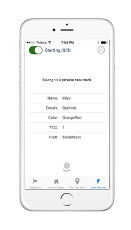 Nowadays, you don't need any special hardware to do live tracking. You can use your smartphone with the TackTracker app for iPhone or Android and instantly create a live race when you turn on tracking. For more information, see the TackTracker App for iPhone and iPad page.
Getting Started
You can get started with Live Tracking right away with an 18 day free trial.
Costs
TackTracker has one simple charge, called a Tracker Right to pay for your live tracking. You need a Tracker Right for each live tracker in use at the same time. More information on tracker rights, including pricing, is available here.
You are welcome to request a quotation from us.
Live Tracker devices
You can use your mobile phone to live track, or if you need a fleet of trackers, a dedicated live tracker device might be the right option. TackTracker works with a range of trackers listed below:
| | | | | | |
| --- | --- | --- | --- | --- | --- |
| | iPhone or iPad running the TackTracker App | | Android phone or pad running the TackTracker Recorder App | | Meitech MT90G |
| | Meitrack P99 (3G and 4G models) | | Teltonika GH3000 | | Queclink GL300 |
| | TKSTAR (3G and 4G models) | | | | |
Live Trackers require a SIM card and you will need to source the SIM and buy a data plan for each tracker. We recommend you look for a 365 day pre-paid plan if available. Live tracking actually uses very little data - roughly 1MB every 7 hours of use and the lowest cost plan is often sufficient for a year of use.
Please contact us if you wish to discuss support for a new type of device with TackTracker.