Live Tracking
Live Tracking offers the excitement of watching a race in real time from anywhere in the world.
A live tracker transmits GPS location data to the TackTracker Cloud every few seconds, typically using the mobile phone network. The TackTracker Cloud server associates the data with the trackee name and other details and stores it in it's real time tracking database. Any TackTracker player, including the PC and Mac players, the Web player and the iPhone/iPad player can play live races from the TackTracker Cloud.
Applications
Live Trackers can be used in three ways:
1. In a Live Tracked Race
Live!
The conventional use for a live tracker is in a race that is published live. This is done by creating an future dated race and publishing it to the cloud. Then you must schedule your trackers for the race. At the time of the race, your tracks will automatically join the race and be available online.
Live races can be published to either a Regatta or a home page on the TackTracker Cloud. Either way the process is the same.
2. Instant "no setup" Live Tracking
You can instantly create and publish an ad-hoc live race when you turn on tracking using the Android or iPhone recorder. This makes it easy for anyone to view your racing. More information is available on the Live tracking with you phone page.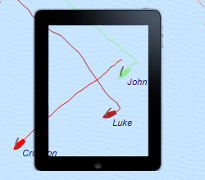 For training events, or keeping up with the progress of your students or kids from the shore, you can view your trackers on the "Trackers" page. No setup is needed - just turn your trackers on and take them sailing. To view the tracks, sign in to the TackTracker Cloud and visit your Trackers page tacktracker.com/cloud/devices/show or the "My Trackers" tab in the TackTracker App on your iPad or iPhone.
3. As a "no upload needed" Logger
You can use your live tracker even when a race is not published live and even if loggers are being used by other competitors. As your live track is automatically saved to the TackTracker Cloud, there is no need to upload your track on return to shore - the job is already done. The person who is driving TackTracker to create and publish the race can "Get" your track and others from the Cloud and add it to the race.
Getting Started
If you have a smart phone, you can get started with Live Tracking right away with an 18 day free trial.
If you need a fleet of trackers, a dedicated live tracker may be the right option and TackTracker works with a range of trackers listed below.
Costs
TackTracker has one simple charge, called a Tracker Right to pay for your live tracking. You need a Tracker Right for each live tracker in use at the same time. More information on tracker rights, including pricing, is available here.
Your telecommunications provider may charge for your data usage. Live tracking actually uses very little data - roughly 1MB every 7 hours of use. You will still need to source a SIM and a plan for each tracker. We recommend you look for a 365 day pre-paid plan if available. For example, in Australia, a Vodafone $2 SIM plus $10 of credit on the 365 day plan may last you a year of weekly tracking.
You are welcome to request a quotation from us.
LiveTrackers
TackTracker supports a range of live tracking devices including:
Our recommended tracker is the Meitrack MT90G which is water resistant and is one of the very few 3G capable trackers available. This is an important consideration as the 2G GSM network is being switched off in some countries.