A Complete Tracking Solution for Everyone!
Our goal at TackTracker is to make tracking easy and accessible for everyone. We have a solution for you, whether you're an individual sailor who wants to use a tracker to improve his/her sailing, a coach who wants a new de-brief tool or a club running a regatta, small or large.
The TackTracker Cloud is a huge library of current and past race events, which you can view with our built-in web player. We also have native apps built for PC, Mac, iOS and Android devices.
The most powerful players are the PC and Mac desktop apps which you can download from here. The free version can view and analyse any race on the TackTracker Cloud, and also comes with a live race editor for creating and publishing your own live races to the TackTracker Cloud. Licenses are available to unlock additional features, including:
An Logged Tracking license for use with GPS logger devices and which lets you build your own race library on your computer.
A Race Reports license allowing you to generate detailed reports from race data.
A Club Regatta license providing full featured capabilities for clubs and regatta administrators.
TackTracker also has a unique Navigation Rally offering, for automating the running of power boat Nav Rallies (also known as predicted log trials). With TackTracker, you can define the course, score the event and provide a compelling replay for the post-race event.
Trackers
TackTracker offers tracking devices for both live and logged tracking.
Live Trackers transmit track location data to the TackTracker Cloud server every few seconds over the mobile phone network. The right live tracker must meet many criteria, including rugged, waterproof, short tracking interval, easy to use and very importantly - long battery life. You can use your smart-phone as a live tracker using the TackTracker app for iPhone or Android. Or you can use a dedicated live tracker, such as the MT90G.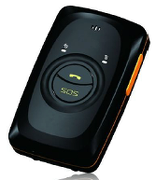 MT90G Live Tracker
Logged trackers record to memory and the data is uploaded after the race session. They are simple, rugged, low-cost and accurate. Our recommended logger is the QStarz CR-Q1100P:
CR-Q1100P Logger
Please visit the TackTracker Shop for more information and pricing, or send us a request for quotation and we'll do our best to meet your needs.