Big improvements for the Live Recorder
Feb 20, 2016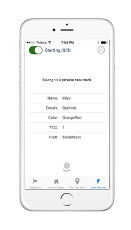 The Live Record feature in the free TackTracker App for iOS and Android has two great new features, delegation and adhoc races.
Delgation
We originally designed live record for users who wish to manage all aspects of iPhone tracking themselves. But there are many occasions when the tracking will be run centrally by one person or group. In this case, they can now ask users to delegate the race scheduling to them when they start their Recorder. This simplifies the process for both users and the tracking administrators.
Ad-hoc Races
This exciting new feature lets an iPhone user create and publish an ad-hoc race for their live track with just a couple of clicks. By publishing a race, the track can be made visible to others on the TackTracker Cloud - and also others tracking in the vicinity can join in. An ad-hoc race is created for you with minimal configuration, so there are no course or marks defined, but these can be added later if required using the Race Editor on your PC or Mac.