The TackTracker Cloud
TackTracker is an integrated tracking system spanning multiple platforms: PC, Mac, Web Browser, iPhone and iPad and Android devices. Linking everything together is the TackTracker Cloud - a live tracking server and track sharing database designed to make it easy to record and share your racing wherever you are.
The TackTracker Cloud is at: tacktracker.com/cloud.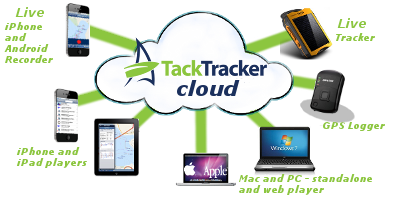 Races are organized in two ways on the TackTracker Cloud:
Regattas: A regatta is a collection of associated races. You can search the database for regattas held anywhere in the world or for your class of boat. A Club Regatta license is needed to create and publish to a regatta.
Home Pages: A home page is associated with each TackTracker Cloud account. Anyone with a TackTracker cloud account can publish races to their home page.
Everyone Gets their own TackTracker Home Page
To get started, create yourself an account on the TackTracker Cloud. This is quick and is free. With your account, you get your own home page, to which you can publish your own races for yourself and others to view online.
You can choose whether a race is to be published privately - and visible only to people you specify, or visible to the general public.
Live Tracking
The TackTracker Cloud is built for live tracking - enabling people all around the world to watch racing in real time from their web browser or the TackTracker App.
The TackTracker App for iPhone and Android devices is also able to serve as a live tracker, providing a readily accessible entry point into live tracking for your club.