TackTracker App for iPhone and iPad
With the TackTracker App for iPhone and iPad, you can follow the racing wherever you are. You can watch any race published to the TackTracker Cloud whether a Regatta or Home Page.
The TackTracker App's live record feature turns your iPhone or iPad into a live tracker, able to record your tracks live to the TackTracker cloud for live viewing or later download into the TackTracker player for review.
The TackTracker App is available free from the Apple App Store.
The iPhone and iPad Apps have the same features and work the same way. On the iPad, the map takes full advantage of the bigger screen.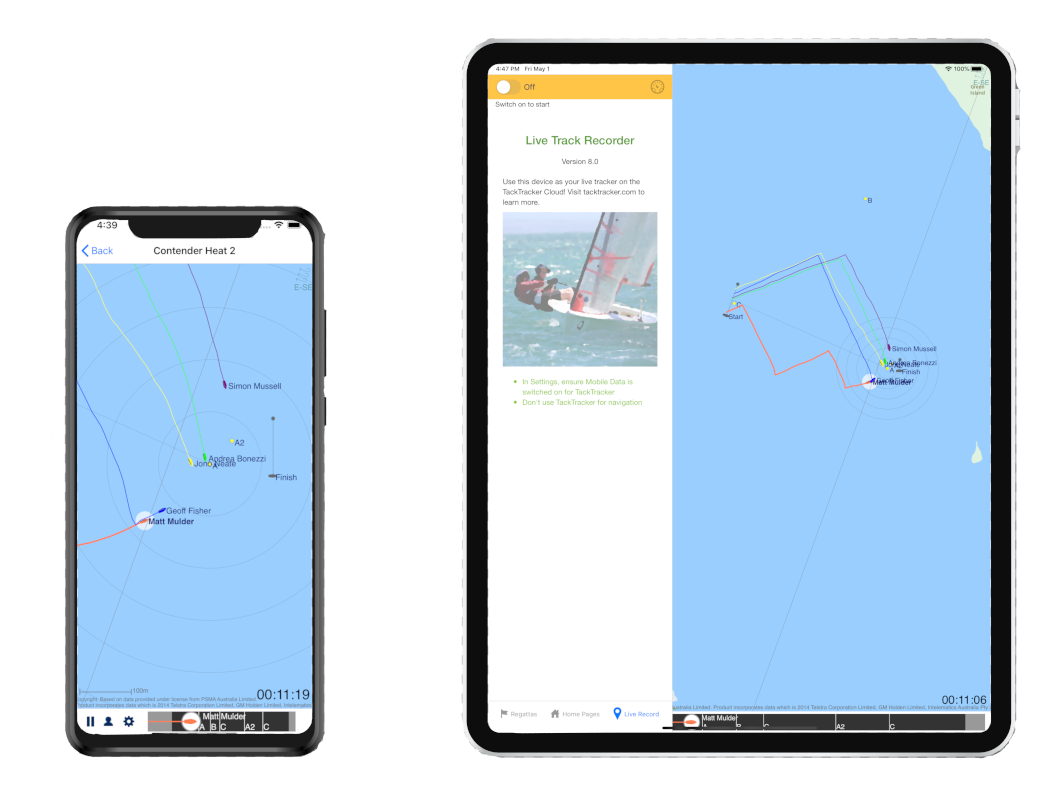 When you launch the app, you see the Regattas page, with three tabs at the bottom of the screen

| | |
| --- | --- |
| | List, search and play races from Regattas from around the world. |
| | See the latest races published to a home page, and view any home page. Keep a list of favorites you like to watch. |
| | Your iPhone is a live tracker! Record your own tracks live to the TackTracker Cloud so others can watch your racing in real time! |
Race Player
The iPhone race player is built using the same player engine as the full-featured player for the Mac. You can pan by dragging the image across the screen, and use the pinch gesture to zoom in and out. Turn tracking on to lock the current boat in the center of the screen. Use the ruler to measure distances and angles between any two points on the map.
Select the current boat by touching the "person" icon. You will see all competitors listed. From the competitor list, you can also view stats for any selected competitors and even compare any two competitors. (Select one competitor and touch the blue action button for another competitor).
Live Record
Turn on Live Record to make your iPhone a live tracker, recording live to the TackTracker Cloud server. A Tracker Right is needed to connect the recorder to the TackTracker Server and an 18 day free trial is available.
You can manage the recording yourself, or you can delegate management of your tracking to a race administrator.
When you manage the recording yourself, you choose which races to record to. If needed an adhoc race will be created for you.
During live record you can see a dashboard showing your current location, speed and bearing. You can also see the track you are creating on the map.