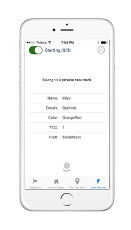 Instructions for Phone Tracking - Centrally Managed
These instructions are for competitors asked to track using their phones and have someone manage their tracking centrally. This person will provide competitors with a TackTracker account name to delegate to. As well as the instructions below, we have created this short video:
Instructions for Competitors
Your race organiser will be providing live tracking and asks you to participate.
Each competing boat will need one smartphone set up to track their race. If you have several smartphones on board, decide up front which one to use. There are some setup steps you need to do and its best to do them well in advance of the race. On the race day, all you will need to do is to turn tracking on.
Get your phone ready for tracking
Get your phone ready for tracking now following these steps:
Install the TackTracker App on your Phone

TackTracker has apps for both iOS and Android devices. Search the App Store or Google Play Store for "TackTracker":

If you installed the app a while ago, please update it to pick up any essential fixes made since last use.

Set your Phone up for Tracking:
Be sure to charge your phone prior to your race session. Take a power pack if your race session will be long.
Tracking your Race Session
Turn on tracking well before your race start. Don't wait to the last minute - you will forget in the hectic final moments.
To turn on tracking:
Start the TackTracker app. If on iOS, touch the "Live Record" tab.
Switch ON
Touch Start
To turn off tracking
Return to the TackTracker app
Switch OFF