Live Tracking with your Phone or Tablet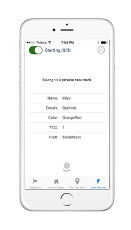 You can use your phone or tablet as a live tracker using the Live Record feature in the TackTracker App for iOS and the TackTracker Recorder App for Android. To use this feature:
Start the app. If on iOS touch the "Live Record" tab.
Switch on using the slider switch at the top of the screen.
If this is the first time you are using Live Record, you will be asked to sign into your TackTracker Cloud account, and the app will automatically add an entry for your phone in your Trackers List.
Unless you are delegating management to someone else, you need a Tracker Right to proceed. If you don't have a Tracker Right, you will be directed to a screen for purchasing (See pricing).
Instructions
You will be asked to provide information about your track. This controls how your boat (or vehicle) displays on the map.

Name

Trackee name as appears in the TackTracker Player

Details

Trackee details as appears in the TackTracker Player

Color

Track Color used in the TackTracker Player

Craft

The type of craft you want displayed




Someone else in charge? Delegate!

When setting up, you will be asked "Is the tracking managed by someone else". If the answer is Yes, click "Yes" and specify the account name of the person or club managing your tracking.

When you delegate, you no longer need any Tracker Rights - this is now the responsibility of the administrator. All you need to do is turn tracking on and off. Delegation will remain in force until you cancel it.

If you haven't delegated, you will next be presented with a list of races, if any, that you may add your track to. You can select more than one race if needed. Selecting a race will add your iPhone/iPad tracker to the race's tracker schedule.

If you select nothing, your track will still be saved to the TackTracker Cloud for later use in TackTracker - and will also be visible live in your Trackers list on any TackTracker Player.



Create an Instant Live Race

You can optionally create a new live race for your track ready for immediate viewing. This is the simplest and easiest way to create and publish a race to share your track with other people. The race will be published automatically to your TackTracker Cloud home page.
Touch Start to begin recording your current location to the TackTracker Cloud.
A summary of your track information will be presented, and TackTracker will begin recording to the Cloud.

The status will initially show "Starting", then progress to "Recording" when the location is known.
On iOS devices, TackTracker may display the tracking dashboard - showing your tracked speed and bearing. (The dashboard won't display if you're tracking to a race.) The speed and bearing shown are derived from the previous two track points, so will lag your current speed and bearing.
If you are using an iPhone, touch "Show Map" to see your current tracked position on the map. On the iPad, your tracked position is already visible alongside the dashboard.

Tracking will continue in the background even if you leave the TackTracker App.

To stop recording, touch Back to return to the Live Record screen and switch Off.