How to Track a Live Race
TackTracker provides online tools for creating and managing your races. To access these tools, sign onto your TackTracker Cloud account and click Setup. (The direct link is: https://tacktracker.com/cloud/manage.) You can use these tools from a desktop or a smartphone browser so you can update race times even when out on the water.
You will see two tabs:
If you have not yet added and setup your live tracking devices, please do that first using the Trackers tab. Refer to the setup information for adding the various supported tracker devices. Smartphone devices are added to your list automatically when the live record feature of the TackTracker app is turned on or a user delegates their phone to your account. Note that trackers must be enabled to record data to the TackTracker cloud.
All the features described below are available from the Races tab. Here you can:
Create modify and delete races
Set or change the start and end times for a race
Postpone and re-start a race
Assign trackers to a race. (We call this a schedule).
Retroactively get tracks for a race for the current schedule.
Make a copy of a race - optionally at a new date and time.
Creating a Race
To create a race, click the Create Race button

. This will open up the new race dialog: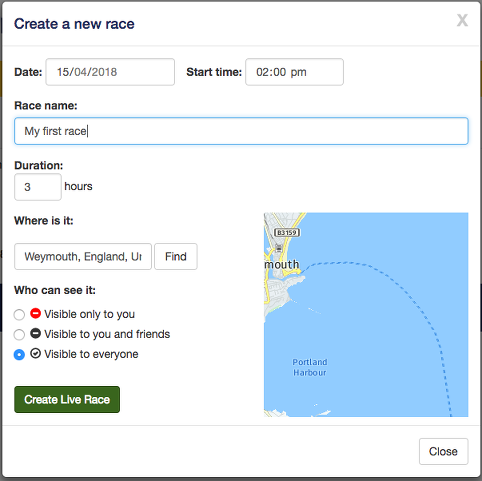 Here you specify the race start date and time, name, duration, location and visibility then create the race. When the race is created, a race "tile" is displayed to provide information about the race and provide tools for modifying the race. Tiles are listed in order of race start.
After creating a new race, your upcoming race tile will look like this:

The tile color indicates the race status - whether it is upcoming, postponed, live or ended.
The Tracker Schedule
You must tell TackTracker which live trackers are to record into your race. This includes trackers that are used to locate course marks. (You may have multiple races running simultaneously, in which case it is good to know that you can have a mark tracker record into multiple races at once.)
The list of trackers recording into a race is called the tracker schedule. Click the Trackers... button on a race tile to show the tracker schedule: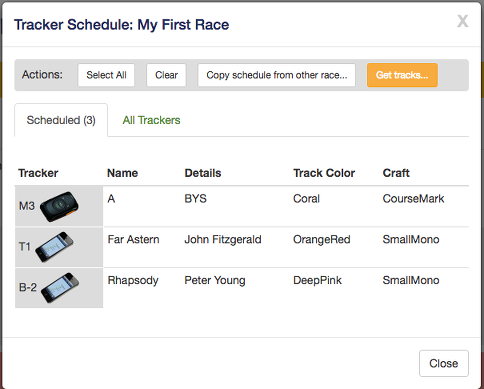 The "All Trackers" tab lists all available trackers and lets you select trackers for your schedule. The "Schedule" tab lists the trackers currently selected. Here you can select a tracker to edit the name and other details or delete from the schedule. Note that you can change the name or other details of a scheduled tracker just for this race. This change will not affect the name used for other races or the tracker list.
At the top of the dialog are several buttons providing useful actions:
Select All Select all trackers in your tracker list
Clear Unselect all trackers
Copy schedule from another race... Re-use a schedule you have already set up for another race.
Get Tracks... Replace all the tracks in this race with tracks that match this schedule. This feature allows you to recreate races after the event has happened and to fix tracks caused by errors in the schedule.
The Race Editor
Click the Race Editor... button on a race tile to modify your race. The race editor has two tabs:
The Start tab lets you modify the race start and end times. For upcoming and live races, you may also postpone a race, and buttons are provided to easily adjust the start time in real time whilst a race is being run and to end a race when it is complete.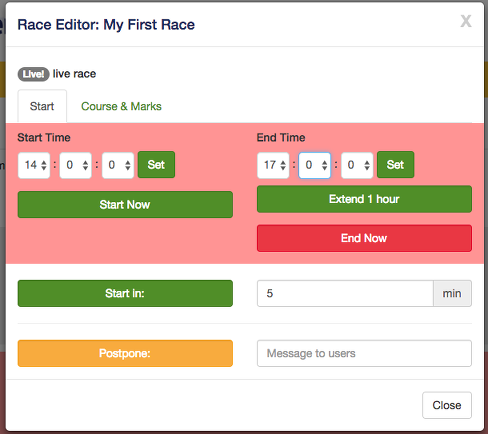 The Course & Marks tab lets you specify the course - as a space separated list of mark names, not including the start and finish.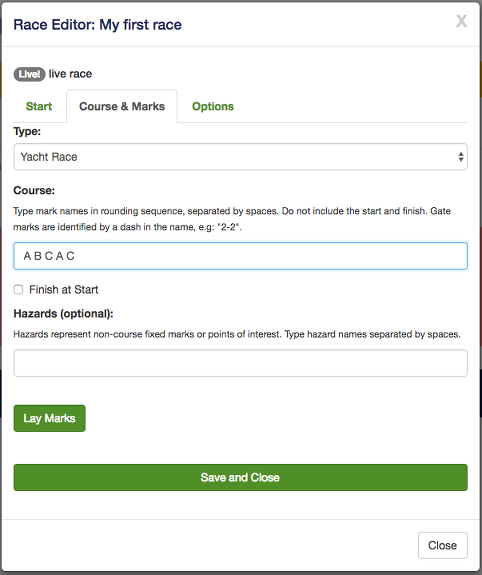 For example, consider a course with a triangle and windward return: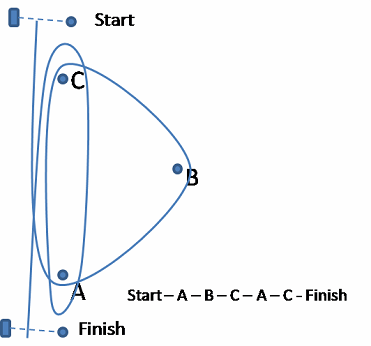 This course is specified as "A B C A C".
If you wish to place the marks in position on the map, click "Lay Marks".
Mark locations may also be derived from a live tracker. To use a tracker to locate a mark, set the tracker name to exactly match the mark name. TackTracker reserves special names you must use for the start and finish marks: StartBoat, StartPin, FinishBoat and FinishPin. The other mark names are taken from your specified course. For example, if you specify a course: A B C A C, TackTracker will add marks named A, B and C.
Race Settings
Race Settings may be edited by clicking on the race name on a race tile. You will see the race Settings dialog, allowing you to change the race name, location (Regatta or Home page), visibility and description.